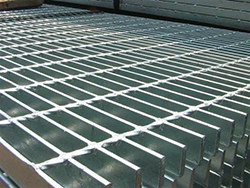 Aarya Engineering are engage In manufacturing supreme quality of Gratings is offered to the Different Heavy Industries such us Cement Plants, Power Plants, Project Units, Paper Industries, Refinery, Fertilizer, Rayon Plants , Steel Plants , Process Plants, Sugar , Oil & Gas Plants etc.

Grating are used in different application as:




A Walk Way Platform


Safe Guard of Equipment 


As a Stairs


As a Flooring in Industries


Construction Industries


Material -
Mild Steel (With Galvanizing, Hot Dip Galvanizing, Red Oxide Paint, Enamel Paint) Stainless Steel.
Design -
Grating are customized in design as per customer requirement & applications. which are safe, durable, light in weight, heavy strength.

Other Information:



Minimum Order Quantity: 3 TON


Production Capacity: 20 Ton Per Month


Delivery Time: Customised