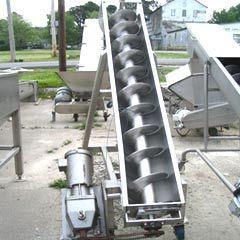 We are please to informyou that , we are one of leadinf manufacturer of Screw conveyors , which are heavy instruments used to transport or convey solid or semi-solid materials or materials in slurry form. These conveyors are generally used in bulk handling industries. These screw conveyors can move materials in horizontal, inclined or vertical direction as per requirement
AARYA ENGINEERING are deals in Screw Conveyor which are Prompt quality , that are used for a wide variety of purposes. These screw conveyors are used in many industries like , coal , power food processing, chemical, cement, fertilizer or pharmaceutical industry.
We possess a state of the art infrastructural facility where our engineers and technicians use latest technology to manufacture screw conveyors for various needs. We also supply equipments needed for these screw surveyors. Before final delivery of products to our clients, all parts of screw conveyors checked properly so as to help you get flawless service from our screw conveyors. Moreover, we also provide after sale maintenance and service support to our clients.
Available in - MS ,, SS304 , SS316 , SS310 ETC